Everything your child needs for dental care
T32 Dental Centre is one of the few dental clinics in Singapore with a dedicated pediatric department (T32 Junior) put together with kids' dental needs in mind.
Specialised Children Dentists in Singapore
With a committed team of dentists, we provide a comprehensive range of dental care services for your kids. Our dental care facilities are designed to make children feel comfortable and positive during their dental visits.
If you are looking to educate yourself on how to better take care of your child's teeth, you can refer to our Children Dental 101 Resources.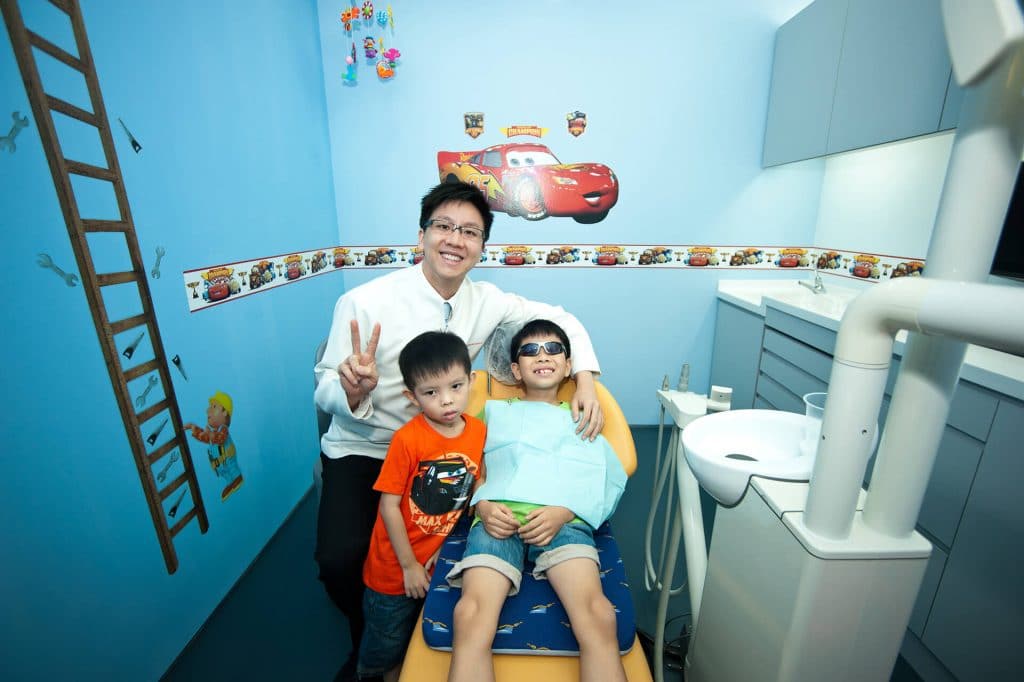 Why Choose T32 For Your Child's Dental Needs
We eliminate children's fear of going to the dentist because going to the dentist shouldn't be an unpleasant experience
At T32, we recognise that for adults, visiting the dentist twice a year can already be a daunting affair. Therefore, one could imagine if it is so for adults, how much more will it take for parents to convince their kids to go to the pediatric dentists willingly without the drama.
Usually, a child's first visit to the dentist involves the removal of a painful tooth decay. The child experiences discomfort during treatment in the bid to help him, and this process is the beginning of associating dental visits with fear and apprehension.
In order to help your child readily accept dental visit or procedures that are sometimes unpleasant, we recommend that parents help ease them into the visits by making them fun and enjoyable. At T32, our dentists and staff are professionally trained to help with the easing process to make it easier for parents and children.
Having said that, it is also much cheaper and healthier to have regular, early care for your child's teeth.
T32 Junior Oral Health Programme
We started our own T32 Junior Oral Health Programme, designed to nurture the concept of good oral health to young pre-schoolers in a fun and comfortable delivery.
Dental Centre Facilities Designed for Children
Our facilities are designed to make children feel at ease during dental visits.
*Dedicated T32 Junior facilities are only available at T32 Dental Centre at Camden
Ceiling TV Monitors
Wireless Headphone
Entertainment Area
Kids' Movies
Kids' Games
T32 Junior Children Dental Services:
Frequently Asked Questions about Children Dentistry
We have a "Toy Story" treatment room for boys and a "Disney Princess" treatment room for girls. Both are brightly painted and decorated with decals from your child's favourite cartoons. Both rooms come with ceiling mounted televisions to keep the young ones occupied during treatment. They can choose from a selection of DVDs of the latest in kids' entertainment.
The dentist will examine your child's teeth for cavities and gum problems and recommend the appropriate treatment. If all is well, a simple dental cleaning will be done, followed by a fluoride application in decay prone children.
Parents of children 6 years old and below can utilise funds in their child's Child Development Account (CDA) or "Baby Bonus" account to help defray the cost of treatment.
We encourage you to speak with our dentist for a consultation to find out more about the dental treatments available for your condition, price ranges and other fees applicable.
The Singapore Pediatric Dentistry Society and American and British Pediatric Dentistry Associations recommend that you bring your child for a check-up before his first birthday to help get him get acclimatised to the dental setting.
A child's primary teeth are important for feeding, speech development and to hold the spaces for the succeeding adult teeth. It is highly recommended that they are kept until the succeeding adult teeth are ready to erupt to replace them.
It is normal for adult teeth to grow 'behind' the primary tooth. As it erupts, it causes the disintegration of the root of the primary tooth. The primary tooth will start to become shakier and eventually fall off.
I Want To Make An Enquiry/Appointment
Make An Enquiry/Appointment
Fill up the form with your particulars if you would like to learn more about our services.
I hereby give my consent to T32 Dental to send emails, SMS message, and/or call to my contact particulars provided herein