Medisave & CHAS
We are a group of participating accredited clinics under the Medisave and CHAS scheme spearheaded by the Ministry of Health (MOH) of Singapore. All Singaporeans and PRs with CPF contributions will have their medisave accounts set up for use for medical treatment, and the Community Health Assist Scheme (CHAS) is another programme spearheaded by the Ministry of Health (MOH) to help provide accessible and affordable medical and dental care to Singapore Citizens.
Medisave
For Singaporeans and Permanent Residents of Singapore, you may use Medisave to pay for a portion of your own or your family members' surgical fees, subject to CPF withdrawal limits.
Medisave can be used to pay for surgical procedures such as:
Wisdom tooth removal surgery
Dental implant surgery
Bone grafting
Gum grafting
| Procedure | Medisave Amount Claimable |
| --- | --- |
| Wisdom tooth removal surgery | $650 to $2900 |
| Dental implant surgery | $1250 |
| Bone grafting | $1250 to $2350 |
| Gum grafting | $1050 to $1550 |
With reference to the guidelines above on amount stated for claims on surgical procedures, please note that the final the amount claimable is subjected to the approval of the Central Provident Fund Board (CPF). The final amount that you can claim from Medisave for your treatment is dependent on the complexity of each procedure. Click here to find out more on Medisave.
Community Health Assist Scheme (CHAS)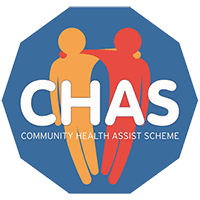 The Community Health Assist Scheme (CHAS) enables Singapore Citizens from the lower and middle income households to receive subsidies for medical and dental care at participating General Practitioners (GPs) and Dental Clinics near their homes. Singapore Citizens who qualify for CHAS will receive an individual blue or orange Health Assist card.
To qualify for CHAS, applicants must be Singapore Citizens and should meet the following criteria:
For households with income, the household monthly income per person must be $1,800 and below*.
For households with no income, the Annual Value (AV) of home must be $21,000 and below**.
*Household monthly income per person is the total gross household monthly income divided by total number of family members living together. Gross monthly income refers to your basic income, overtime pay, allowances, cash awards, commissions and bonuses.
** AV is assessed by IRAS. An AV up to $21,000 covers all HDB flats and some lower-value private residences.
Members of the public who are on Public Assistance (PA) scheme do not need to apply as they are already eligible for CHAS. Click here to read more on CHAS application.