All-on-4 Implant Treatment:
Immediate
Fixed Full Mouth Restoration
What Is Pro Arch
/ All-On-4 Implant Treatment?
Full dental replacement (entire jaw) is the most challenging of dental reconstructions. While a removable denture is a conventional treatment modality, it often does not fulfil the functional, aesthetic and comfort level requirements of most patients.
The Pro-Arch / All-on-4 treatment is an approach that uses 4-6 dental implants (straight or tilted), permitting the provision of immediate temporary fixed bridges for edentulous patients - despite limited bone availability. This protocol has become a popular procedure worldwide.
Walk in with dentures,
walk out with FIXED TEETH on the SAME DAY
Extraction of teeth and temporary teeth are fitted at the same time. You don't have to travel to different clinics and wait for months to get your set of teeth. We save time with our in-house dental lab capabilities, and are able to fabricate your bridge for installation on the same day of surgery.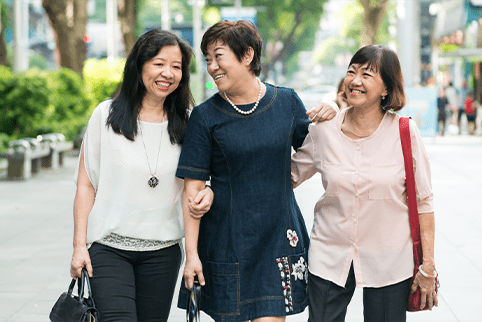 Are you the right candidate for
Pro Arch / All-On-4 Implant Treatment?
PRO ARCH / ALL-ON-4 IMPLANT FORM
What can I expect at my Pro Arch /
All-On-4 Implant Treatment consultation?
Meet our Implant team
Our qualified and certified Specialists will assess your teeth condition and determine your suitability to undergo the Pro Arch / All-On-4 Implant Treatment.
Detailed analysis with CT Scan, X-rays, chair-side digital scanners
As part of the consultation, a CT Scan will be taken for the Specialist to develop a comprehensive treatment plan.

Get your treatment plan and quotation on the same day
Customised treatment plan with our Specialist. You will leave your consultation knowing exactly what is needed and how much your treatment will cost you.
The Pro Arch / All-On-4 Implant Treatment Procedure
The Pro Arch / All-On-4 Implant Treatment allows patients to have fixed transitional teeth to eat better, have improved aesthetics and confidence, and be able to lead a better quality of life. The Pro Arch / All-On-4 Implant Treatment brings together many different treatment steps which reduce complexity, without compromising the outcome for patients. From treatment planning, to implant placement, and to the final restoration, the entire treatment process is seamless, bringing greater convenience to the patient.
Non-Obligatory Consultation
A Specialist will assess the condition of your teeth and suitability to undergo the Pro Arch / All-On-4 Implant Treatment.
Pre-Procedure Digital Scan / Examination:
A CT Scan will be arranged during the consultation so your Specialist will be able to assess if your bone structure is suitable for the planned implant treatment.
Discussion of the treatment plan for your Pro Arch / All-On-4 Implant Treatment includes the duration of treatment, materials used, implant cost and as well as the maintenance of the implants.
Dental Implant Procedure and Transitional Teeth
(Immediate loading and function)
There are 2 parts to your surgery – Placement of the implants and installation of the new transitional teeth.
You will be under local anaesthesia during the surgery. You can also choose to be under intravenous sedation during the surgery, so that you can sleep comfortably during the procedure.
Post-Implant Procedure Review
(includes customising your new permanent teeth)
Your Pro Arch / All-On-4 fixed Zirconia bridge is custom-made by our in-house technician in our digital laboratory, to achieve the best possible aesthetic outcome.

Getting your Permanent Teeth
You can start flashing your new smile and eat your favourite peanuts!
Tap Into Technology And Expertise
At T32 Implant Centre

Full mouth restoration procedures are generally considered to be among the most difficult and technically demanding in the field of implant dentistry. As such, patients would do well to seek the expertise and quality care of trained and experienced practitioners specialising in such complex dental implant surgeries.
Cone Beam CT Imaging System (CT Scan)
The Pro Arch / All-on-4 Implant treatment involves the use of the Cone Beam CT imaging system prior and during treatment to deliver clear 3D images. The Cone Beam CT imaging system is available at all our centres, and it is considered the gold standard for clarity and accuracy for bone imaging. It helps to provide a better treatment outcome for patients, and more accurate implant placement, reducing risks such as nerve injury.
Range Of Implant Solutions With Digital Technology
With Digital technology, dentists are now able to plan a more accurate and precise surgery for your Pro Arch / All-On-4 Implant treatment. Using computer software that superimposes the CT scan and the planned position of your teeth, your dentist is able to plan exactly where the implants are to be surgically placed. Our in-house dental lab is equipped to then be able to 3D print the surgical template that will be used for the guided surgery. Harnessing the latest technology available allows us to provide our patients a peace of mind by ensuring shorter surgery duration and less invasive procedures.
Done By Experienced Team of Specialists Only
Premium Implant Brands (Straumann & Nobel Biocare)
Wholesome And Hassle-Free Treatment Programme
Quality Implantation With Pre-Surgical Routines And Comprehensive Diagnosis
One-Stop Destination For A Seamless Patient Experience
CT Scan, CAD/CAM & In-House Laboratory available at one location
T32 Booking An Appointment - Camden Only