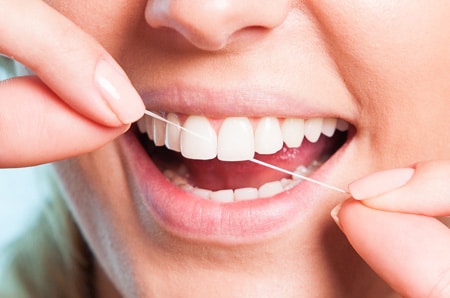 Flossing is an important part of oral health and should not be neglected. Even if you brush your teeth 2 times or more daily, it is still not enough because the toothbrush bristles cannot access the tight contact areas between the teeth.
Plague (sticky, microscopic layer of food) trapped in between the teeth, if not removed, causes problems like irritation of the gums and cavities. Any foods left on the teeth are converted into acid by the normal organisms in our mouth. This acid will then soften (decalcify) the tooth structure that it is in contact with. Repeated exposure and softening causes the tooth structure to break down and become a cavity. Thus, it is very necessary to remove this plague through flossing.
If you are having problems with your flossing and encounter bleeding of the gums when you do so, it could be caused by inflammation and infection of the gums and probably with the technique of flossing. If you go too far down your gums – you can abrade the gums while flossing. One should only go slightly below into the tiny space or gingival crevice of the gums. However, if you get persistent bleeding, it is best to seek the advice of a dentist on your technique of flossing or whether you have some gum infection caused by food irritation.
Flossing tight teeth with no spacing
Adults and children who do not have spacing in between their teeth are more prone to such food traps and thus prone to cavities. Therefore, it's necessary to floss. It is more so in children as the structure of the baby teeth is thinner and they break down more easily when exposed to acid. It is very necessary that children's teeth should be flossed by the parents. Children should not be allowed to do it themselves as improper flossing can hurt the gums.
If your teeth are "tight" – use a "waxed" floss. This is stated in the floss pack. If you have difficulty in getting the floss in between the teeth, try a gentle see-saw motion. The correct way a dental floss is anchored between the fingers of the hands is important as it facilitates easier flossing. Any dentist, dental hygienist or dental therapist can teach you that.
FAQ on flossing:
IS FLOSSING NECESSARY/IMPORTANT FOR CHILDREN?

Yes, especially for those with little or no spaces. Numerous cavities do occur in between baby teeth and they are difficult and costly to repair. So do floss these areas for your child.

WHAT IS THE RECOMMENDED AGE FOR CHILDREN TO FLOSS THEIR TEETH?

From 3 to 12 years old: Parents should do it for them
From 13 years onwards: Child can do it themselves with supervision

WHAT TYPE OF FLOSS CAN CHILDREN USE?

Waxed floss is recommended.

HOW SHOULD THEY DO IT – ON THEIR OWN OR WITH HELP?

Younger children below 12 years of age should be helped and not to do it on their own.

WHAT ARE THE CORRECT AND WRONG WAYS TO FLOSS?

The wrong way is not to anchor the floss properly on the fingers of the hands. You can consult a dentist, dental hygienist, or dental therapist, on the proper way to floss.

WHAT ARE THE INDICATORS THAT ONE IS FLOSSING THEIR TEETH WRONGLY?

When one finds it difficult to manipulate the floss and when one gets pain from the gums during flossing, consult the dentist.
There is a book written on flossing entitled "TIMMY LEARNS FLOSSING" in The Healthy Smile Series that explains very simply flossing and it's technic. This is available at T32 Dental Centre, Level 17 Camden Medical Centre, or you may email  to request to buy a copy.
Read the review of Vol. 1 of The Healthy Smile Series – Timmy Visits the Dentist on kidsandparenting.com!
Written by: Dr Lim Swee Teck