STRAUMANN PRO ARCH
Straumann Implants Pro Arch is a scientifically proven technique with well-established results that allows for edentulous (toothless) patients or for patients with dentures to have a new set of teeth.
Straumann full-arch solutions replace missing teeth in the upper and/or lower jaw, with a full-arch supported by 4 – 8 dental implants. The treatment uses Straumann dental implants placed at strategic angle and positions in the front part of the jaw where the natural quantity of the bone is usually enough to support an implant.
Depending on your situation, your dentist may even be able to place a temporary bridge on the day of your surgery or soon after and this leads to high patient satisfaction. Patient now has immediate fixed teeth to eat, and has better esthetics and confidence, leading to a better quality of life and healthier state of being.
Advantages of 'Straumann Pro Arch' Method over Traditional Implantology
Advantages of 'Straumann Pro Arch' Method over Dentures
The Pro-Arch Treatment Procedure
Straumann Pro Arch brings together many different treatment steps which reduce complexity without compromising the outcome. From planning and implant placement to the final restoration, the entire treatment is seamless for the patient.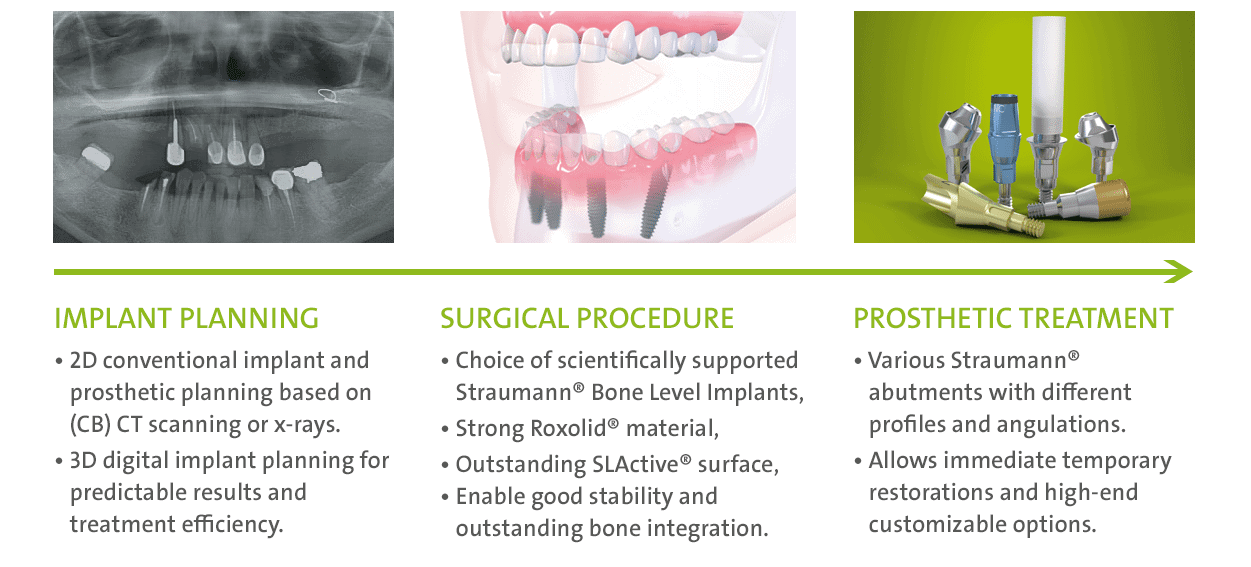 Typically, getting full-arch dental implants will take several visits at our dental centre, and includes consultation, diagnosis CT-scan and X-rays, treatment planning, implant placement, and your new fixed bridge. The treatment process can vary depending on the individual.
The first visit is a consultation with a specialist to access your condition and suitability for the pro-arch solution. This will involve a dental implant screening which includes a CT-Scan, X-ray, dental consultation, oral diagnosis and treatment planning. The diagnosis scans are used to determine the best locations to place the implant and if patient decides to proceed for treatment, impressions will be taken and used as moulds for creating the tooth restoration.
At your next visit, the implants are placed in your jawbone by our implant specialist. There will be a wait of several weeks or months to allow the dental implants to integrate into your surrounding bone. Depending on your situation, your dentist may even be able to place a temporary bridge at this same appointment or soon after.
Once your tissues have fully healed and the bone fuses to the implants (known as osseointegration), the permanent fixed bridge is attached to the implants. Additional visits may be required to ensure optimal fit and placement.
Singaporeans and permanent residents of Singapore can choose to claim from Medisave on part of the treatment cost. Medisave savings of immediate family members can also be used for this purpose. For more details on Medisave coverage, please visit our Medisave page.
Treatment fees may also be further divided into installments.
Straumann Pro Arch Videos
Fixed restoration with 4-6 implants, all straight
Fixed restoration with 4 implants, posterior are tilted