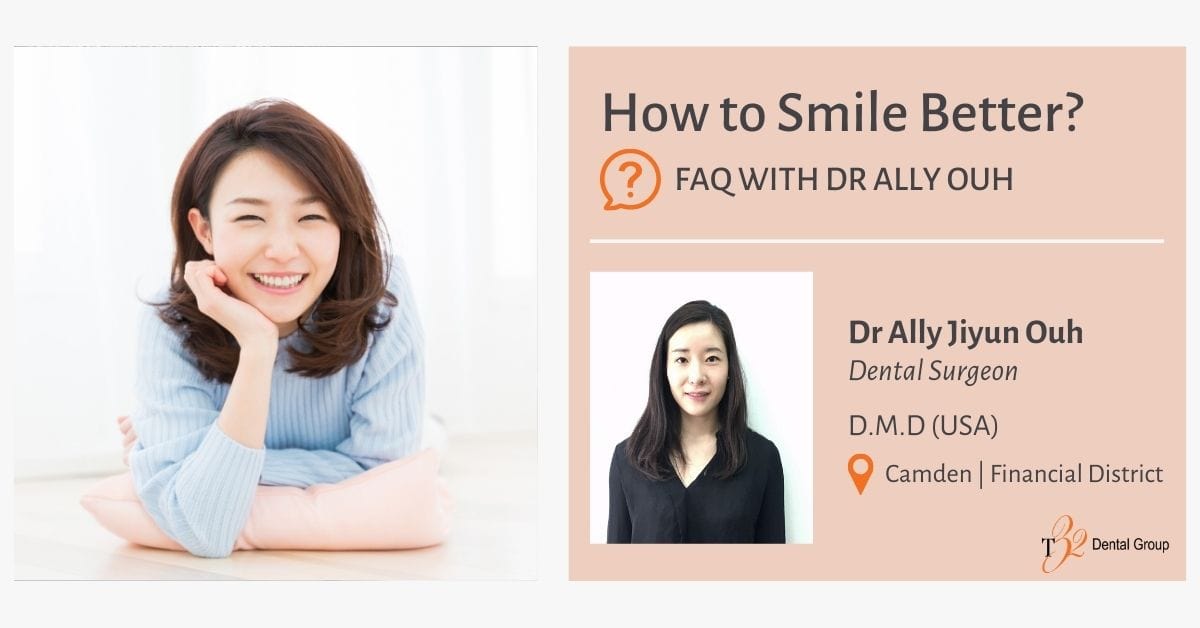 This month, we sat down with T32 dental surgeon, Dr Ally Ouh Jiyun, to learn how we can improve our smile. Read on to learn more.
You can also get more tips from our October article "10 Ways You Can Improve Your Smile".
How can I smile better?
There are many ways you can improve your smile! Everyone is different and what you need will vary from person to person.
At T32 Dental, we can assess your smile and customize a smile makeover according to what your smile needs. It is our new Smile Enhancement Program.
Is it expensive to improve my smile?
If you have practiced good oral hygiene, you may be just one step away from your desired smile!
The cost of a smile makeover will depend on the type of treatments you need. For most people, all that needs to be addressed are minor imperfections such as misaligned or stained teeth. We can straighten teeth with clear braces (Invisalign), and for stained teeth, we can easily whiten them.
For others who have missing teeth, we will recommend tooth replacement solutions such as dentures, bridges and dental implants. For those who need to correct their teeth shape, we can restore them with treatments such as onlays, fillings, dental crowns and veneers.
After assessing your teeth at the initial smile consultation, we will be able to provide you with more details of what treatments you need and an estimated cost.
Will my smile look fake?
At T32 Dental, we aim to achieve natural-looking results.
At the initial consultation, you can preview how your final smile will look like with the use of our intraoral and face scanning technology!
How long will the treatment take?
The treatment duration varies for each individual. It really depends on the type of treatment you need.
If you have missing or misaligned teeth, the treatment will take at least a few months. If it is a small concern such as stained teeth, you may only need 1 or 2 appointments to complete your smile treatment.
Are the results permanent?
Although no cosmetic dental treatment guarantees a permanent outcome, we aim to provide you with long-lasting results.
If you have straightened your teeth, you can maintain the teeth position by wearing retainers at night. If you have whitened your teeth, you can prolong the results by avoiding habits such as smoking or drinking tea and coffee.
After you complete your smile treatment with us, we will advise you with the necessary aftercare according to the treatment you underwent.
For everyone, the treatment results can last longer if you take care of your teeth. This includes practicing good oral hygiene by brushing your teeth twice a day, flossing daily and going to the dentist for a regular check-up every 6 months.
What else can I benefit from better teeth and smile?
Not only will your teeth look better, you will also benefit from improved oral health and a big boost in confidence and happiness.
About Dr Ally Ouh
Dr. Ally Ouh Jiyun received her Doctor of Medicine in Dentistry (D.M.D.) degree from the University of Pennsylvania in Philadelphia, PA, U.S.A. Upon graduation, she took on the General Practice Residency at Methodist Hospital in Brooklyn, NY.
She is enthusiastic about learning and has attended many continuing education courses throughout her career, including the renowned Advanced Aesthetics Dentistry program at New York University where she gained vast knowledge in cosmetic dentistry.
T32 Smile Enhancement Program
Start your smile journey with T32 Dental today!
Learn more about our Smile Enhancement Program.